Vintage Jucifer T Shirt "Sound of Metal" - XL
Regular price

$100.00
Sale price
Pickup currently unavailable
Share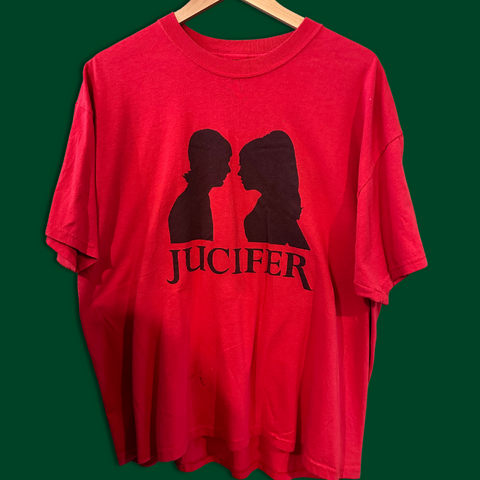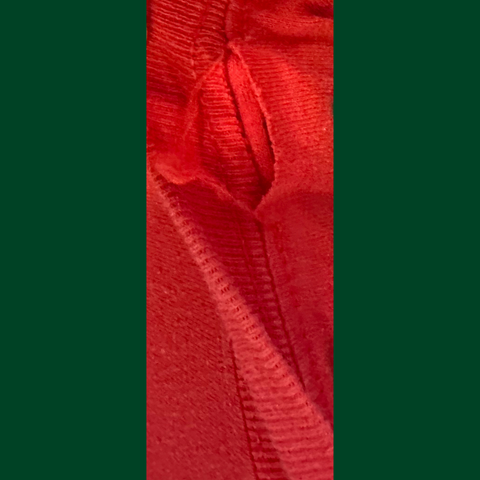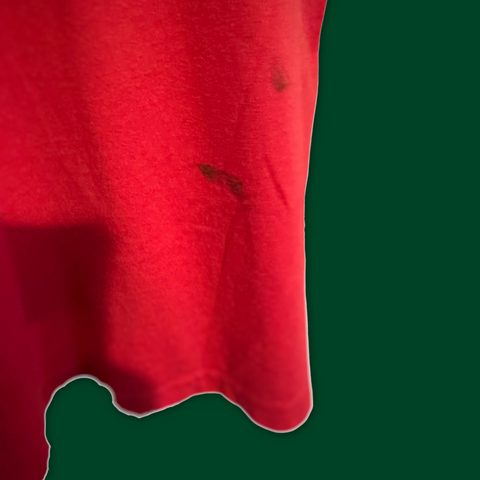 Jucifer's Gazelle Amber Valentine and Darius Marder lent many elements of their life story as a two-piece metal band gigging around the country in an RV to the Oscar-nominated movie "Sound Of Metal".

Valentine and Marder were the subjects of the independent film "Metalhead" by Derek Cianfrance. Derek was a Jucifer fan, and he wanted to document them, sort of. His idea was to document the band while also shaping a fictional story. They filmed about 3/4 of the project but hectic touring schedules stymied production, shooting becoming an impossibility as touring continued overseas.  Cianfrance pivoted back to filming "Blue Valentine" after a ten-year hiatus. 
His collaboration with Darius Marder on "The Place Beyond The Pines," rekindled the Metalhead concept, fascinating Marder largely because of his personal experience with deafness. Marder wanted to remake the film according to his vision, simplifying production and casting actors available full-time. 
Lucifer are the first to acknowledge the conflicts between their lives and the film's plot (the drummer's struggle with deafness and recovery) as fiction. Metalhead, we showcased performances and travels, but in Sound Of Metal, the music wasn't even Jucifer. It reflected their lineup and the idea of playing loudly and they had an undeniable impact on Sound Of Metal's atmospheric cool and rawness, the dramatic through line was a narrative device.

But enough about that movie. Jucifer were a solid band. Loud, dark, humid, big-pupiled, metal music with an aesthetic that felt uniquely Athens, Georgia, the small college town they called HQ. Famous for the University of Georgia and its celebrated football team, the Bulldogs. Athens also happens to be the birthplace of college radio, later referred to as alternative and indie erroneously. REM, The B-52s, Pylon, and Flat Duo Jets were pioneers in the genre, and they put Athens on the map. I went to UGA to major in studio art, and it wasn't because of the Georgia Bulldogs. 

When I moved back to Atlanta, my friend Bruce convinced me to come check out this duo called Jucifer at The Echo Lounge, a defunct venue in East Atlanta, a historic,  sometimes crime-ridden section of the city that had only just started flirting with gentrification. The club was awesome, a moody industrial space with a confusing bar. I saw a lot of great bands I would've otherwise skipped had they not played Echo Lounge.

Anyway, I bought this shirt at the show in the video below. I practically ran to the merch booth before the first song was over. I wore it proudly for years, and it started many a cool conversation.


Condition:

Tag: I ripped off the tag during the second leg of a double shift at Tortillas. I didn't realize I'd torn it until I got home. I was bummed, but the shirt remained in the rotation, getting more and more comfortable with each wash.

Size: XL

Color: Red

Fabric: No tag, but it feels like a cotton poly blend