Vintage D.R.I t-shirt "Skanker Man" - XL
Regular price

$100.00
Sale price
Pickup currently unavailable
Share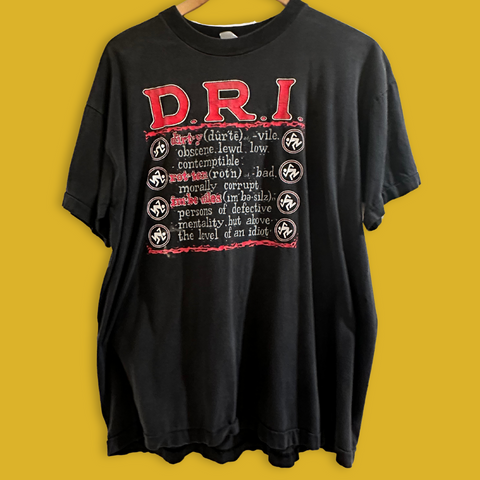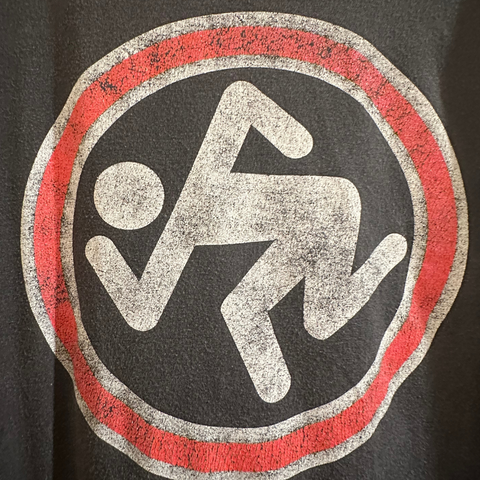 Eric Brecht, the original drummer of the '80s thrash band Dirty Rotten Imbeciles (D.R.I.) crafted the "Skanker Man" logo as a high school art assignment, and he got an "A" for the creation. Two months afterwards, the band made their debut on July 2, 1982, at Joe Star's OMNI in Houston. On November 6 and 7, 1982, D.R.I.

I liked D.R.I. when I was a kid, still do. But I definitely liked their logo more than their music. The Dead Kennedys and D.R.I had hardcore propaganda down. Even the preppy kids spent the better half of third period trying to draw this iconic symbol, often times surrendering and scribbling out a quick DK to justify their lost hour.

I favorited this shirt on eBay. It was just too pricey to justify the expense, but a year into my stakeout, the seller took pity on me, and extended an offer that I could afford. It's a legit skank man, probably an early '90s print, as the '80s shirts have a DIY look and feel this one surrendered in lieu of slicker graphic design, but the Skanker Man looks as good as he ever did.

Perfect patina, perfect wear, graphic fading is on point. Thin and comfy little artifact of American hardcore.