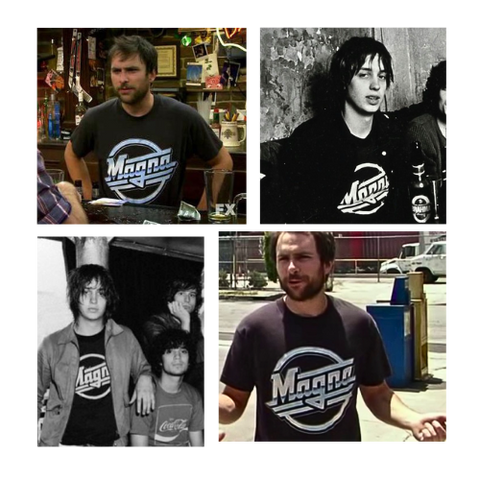 Behind the Magna T-Shirt: A Journey from "It's Always Sunny" to The Strokes
Unveiling the Mystery Behind the Magna T-Shirt: A Journey from "It's Always Sunny" to The Strokes
Unlock the secrets of the beloved Magna T-Shirt, popularized by "It's Always Sunny in Philadelphia" and made famous by The Strokes. Collectors value this unique garment for its ability to convey a statement about pop culture – so what makes it stand out? Let us explore. As we uncover why having one is essential!
What sets apart this simple t-shirt from others? Its connections to two major players in entertainment - first on television with "It's Always Sunny in Philadelphia" then to music when worn by The Strokes, have secured it an iconic status that has led many fans wanting more. Add ultimate style potential thanks to versatile styling options and you can see exactly why collectors are clamoring after these must-haves while fashionistas everywhere strive for their own personal version of perfection through wearing them.
Key Takeaways
The Magna T-Shirt has become a pop culture icon due to its appearances in "It's Always Sunny in Philadelphia" and the logo inspiring The Strokes' band logo.

Its rarity, vintage nature, celebrity influence and limited availability have made it highly sought after as a collectible item.

It stands out for its unique design, high quality materials and comfortable feel that can be styled casually or dressed up with statement jewelry.
The Magna T-Shirt: A Pop Culture Icon
The iconic Magna T-Shirt has become a cult classic thanks to its appearance on the hit TV show "It's Always Sunny in Philadelphia". As well as being worn by Charlie Kelly in several episodes of the show, lead singer Julian Casablancas from The Strokes was photographed wearing it too, leading some people to believe that it had an influence on their logo design. Thus making this collectible item closely associated with both pop culture and this particular age group.
This shirt is now seen as symbolic for certain fans and collectors alike. Embodying what could be thought of as 'the spirit' of these two influential sources within one clothing item. It thus provides them with something they need: a chance at ownership of memorable paraphernalia connected with said cultural phenomena – all contained within one unique piece.
"It's Always Sunny in Philadelphia" Connection
The Magna T-Shirt has become a very popular piece due to its appearances in the hit TV show "It's Always Sunny in Philadelphia." Charlie Kelly wore it many times, making fans of the series eager to get similar shirts for themselves and thus becoming iconic among viewers. This publicity surge only increases their demand. This item is not available anymore, so it is now sought after by lovers of vintage clothing and those trying to collect something from that show they hold dear. The scarcity adds an even more attractive quality than before creating Interest within them who want one too own part of their favorite program's legacy.
The Strokes' Logo Inspiration
The Magna T-Shirt's link to popular culture is not limited by its appearance in "It's Always Sunny in Philadelphia." Its iconic logo has been replicated for The Strokes' own merchandise and was seen as an inspiration behind their emblem. Artist Warren Warren. Fu, responsible for designing this logo based on that of the Magna's design attributes and typeface style, gave a boost to familiarity with the shirt associated with pop culture fanatics enjoying The Stroke music.
This t-shirt thus developed a level of desirability among followers due to its connection with one of their favorite groups while keeping all other factors intact which contributes largely towards making it so highly sought after.
The Collectible Value of Magna T-Shirts
The highly sought-after Magna T-Shirt, linked to both popular culture figures such as The Strokes and "Magna Cigarettes", has become a valuable collector's item. As many of these shirts are either handmade or custom designed, there is limited availability which adds to the appeal. Famous faces like Julian Casablancas wearing an old thrifted version made them even more desirable amongst admirers wanting a piece from this iconic moment in history. Due to its scarcity combined with strong demand it makes any Magna shirt quite hard for those wishing to acquire one creating great enthusiasm among fans seeking unique pieces alike.
Rarity and Demand
The Magna T-Shirt is a highly coveted item among fashion enthusiasts and collectors due to its scarcity. Its limited availability combined with the rising popularity of these garments have contributed to their increasingly higher value, creating an exclusive atmosphere for those who are able to own them.
Collecting one of these shirts has become something akin to possessing a part of pop culture history as they stand out amongst other items because of this rare combination of demand and supply that makes them so desirable. This desirability adds up to the elevated prices which add even more appeal in making it quite attractive addition to anyone's wardrobe collection.
Celebrity Influence
The Magna T-Shirt has become immensely popular, largely due to celebrities. Julian Casablancas of The Strokes had a great hand in making the shirt gain notoriety when he featured their logo on it. This served as an effective way to make people aware and attract them towards the garment associated with such iconic band.
It is well known that fashion statements made by famous personalities often translate into heightened consumer demand for products related or similar, vintage clothing being no exception! Whenever celebs flaunt items from secondhand stores, there's more incentive for folks to buy those pieces. Even sustainability movements come alive each time stars prefer upcycled materials like old t-shirts, thus increasing desirability around those Magna offerings among collectors alike who seek rare gems from yesteryear apparel collections!
Design and Quality: What Makes the Magna T-Shirt Stand Out?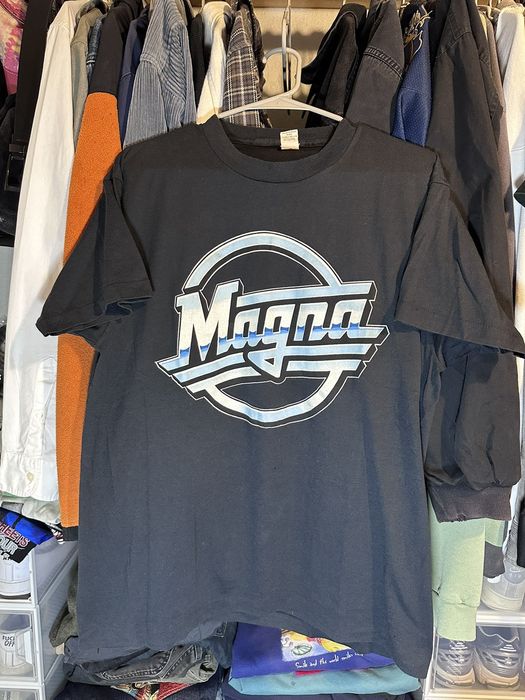 The Magna T-Shirt, with its remarkable design and superior material quality, is unlike any other shirt available. Merging creative expression along with classic pop culture references makes this product a standout in the crowd of t-shirts on the market. This special item has been crafted from soft cotton fabric mixed with polyester to create an incredible fit for anyone who wears it, flexibility plus comfort ensures everyone can appreciate their unique look without sacrificing style or pleasure.
A combination of detailed artistry combined with high caliber materials makes sure that those who donning a Magna Magna Magna are doing well. Tees won't just show off great taste, but they will also be comfortable enough to actually wear. Perfect for lovers of fashion and fans alike!
Unique Logo Design
The Magna T-shirt has an eye catching design that stands out from the rest, which includes a logo made with premium materials to ensure comfort and durability. Its distinct visual style is inspired by The Strokes' music and image adding appeal for fans of the band. This emblematic blend of artistry and pop culture references creates a special garment unlike any other on the market, something both visible appealing yet embedded in meaning to its admirers.
Shirts featuring this distinctive mark are must haves if you want your wardrobe to make an impact. They're hard-to-miss items ensuring everyone knows exactly who's wearing it!
Material and Comfort
The fabric for Magna T-Shirts is designed to provide comfort and durability that lasts, with a combination of 90% cotton and 10% polyester making it lightweight yet breathable. To Enhance its sustainability credentials, each shirt uses five recycled water bottles from Repreve, the leading provider of environmentally friendly fabrics. This commitment ensures your wardrobe remains stylish without compromising on eco-consciousness. Crafted with meticulous detail in mind, these t-shirts boast an easy fit whilst promising long lasting wearability throughout the years ahead – so you can take pride knowing this fashionable garment was crafted both responsibly and ethically too!
Where to Find Your Own Magna T-Shirt
If you're eager to expand your shirt collection with a Magna top, there are numerous places where you can look. Authentic Magna T-Shirts may be purchased from several online stores like TeePublic, Amazon and Etsy. Alternatively, The Strokes' official website also provides exclusive apparel options for those looking to shop officially licensed items only.
Aside from the digital shopping platforms out there. Physical stores such as Walmart or Amazon's Physical Stores might have what one is searching for too – including some vintage shirts if desired which can usually be found in thrift shops or Uncle Reco's retro clothing outlet.
Online Shopping Platforms
If you're looking to add a Magna T-Shirt to your wardrobe, without leaving the comfort of your own home, there are several online shopping platforms that make it easy. You can browse websites such as Amazon, Walmart, High School Fan Stand,Vitkac and Lazada for a selection of shirts at varying prices from around $19.99 - $30.99 each. It is important to check in periodically with these sites since availability may fluctuate over time. Before making any purchase, ensure you understand their return/exchange policies which do vary amongst all different platforms when searching specifically for clothing items like this one.
Thrift Stores and Vintage Clothing Shops
Thrift stores and vintage clothing shops are a great way to discover rare, one-of-a-kind pieces such as the Magna T-Shirt. What leads these items appearing in some of these places is factors like local interest level or amount of old garments available nearby. To name a few retailers known for stocking Magna shirts: Wyco Vintage, Rokit, Beyond Retro, Grailed Thrifted, etc. So if you're after that special shirt, it can be worthwhile checking those locations often or even keeping tabs on their social media accounts in search of news about fresh arrivals, this could ultimately lead you to finding your dream magma tshirt!
How to Style Your Magna T-Shirt
For those of you who know where to find a Magna T-Shirt, let's explore some ways on how to style it! Whether your goal is an effortlessly casual look or something more dressy, this iconic piece has endless possibilities when building up any outfit.
To create a casual ensemble with the shirt, why not pair it with jeans and shorts? For extra polish in your ensemble try tucking the shirt into high waisted bottoms for added definition, making sure that whatever way you choose the finished look will be as stylish as ever.
Casual Outfit Ideas
Creating a casual vibe with the Magna T-Shirt is easy and flexible. Here are some tips to make it look great.
Combine your shirt with high-rise jeans or shorts, then slip on sneakers or sandals for an effortless yet comfortable outfit.

Layer the t-shirt over a denim jacket if you want something stylish but still laidback .

Add another layer of fashion by topping off your magna t, shirt with a flannel top to get that unique layered effect going!
Accessorising can add more flair when styling this type of garment - think subtle pieces like necklaces & bracelets, plus try jazzing up your ensemble even through statement belts & hats too! You're sure to have loads of fun creating different looks using just one piece – especially as we all know, what makes an item truly special is how we style it ourselves!
Dressing It Up
For a more refined appearance when wearing your Magna T-Shirt, you can create an ensemble that adds sophistication. Start by teaming the shirt with fitted pants or skirt and finish off the look with formal shoes, such as heels. Try adding statement jewelry like bold necklaces or bracelets for an extra touch of flair!
High fashion outfits featuring Magna Shirts include distressed jeans matched to high tops complete with gold accents. Alternatively, wear one oversized in monochrome suit pieces for a playful yet powerful outfit idea. By mixing different articles of clothing and accessories together it's possible to develop looks displaying this unique shirt in another light altogether!
Summary
The Magna T-Shirt is an impressive, standout item that has won the approval of fans and collectors. Linked to famous entities such as The Strokes and "It's Always Sunny in Philadelphia," along with its special design elements and comfortable fabric qualities, it's a must have for those wishing to make a statement through their clothing choices.
Whether you are wanting something more refined or simply desire something relaxed looking, this iconic shirt provides plenty of options when styling your look. Now that we understand why there is so much fascination around these shirts, go find yours now! Let everyone see your individual style by using the versatile capabilities of this timeless piece!
Frequently Asked Questions
What is the Magna shirt?
The Magna shirt is an iconic 80's style with the cigarette company logo featured on it. Unfortunately, this shirt is no longer sold, but The Strokes make a t-shirt with a similar look.
What does Charlie Magna shirt mean?
Charlie's shirt featuring the old Magna logo is a vintage item from the 1980s, which unfortunately cannot be found anymore. The Strokes have something similar to offer though!
Who influenced The Strokes?
Albert Hammond, Jr.'s home studio hosted the production of The Strokes' songs with assistance from Grammy-winning engineer Gus Oberg. Drawing inspiration from iconic acts like Blondie, Talking Heads and Sam Cooke To proto-punk groups such as The Stooges and The Velvet Underground, their albums were an amalgamation of several genres.
In which TV show did the Magna T-Shirt gain popularity?
The Magna T-Shirt has become well known after being showcased on the beloved show "It's Always Sunny in Philadelphia". This shirt had a high profile moment as it was seen by many viewers living in and around Philly.
How is the Magna logo connected to The Strokes?
Julian Casablancas, the lead singer of The Strokes band, made an homage to Magna by sporting a t-shirt with their logo on it. This served as inspiration for the new Strokes' own brand identity.